Ford Gabriel fier de supporter The Knight Fox Company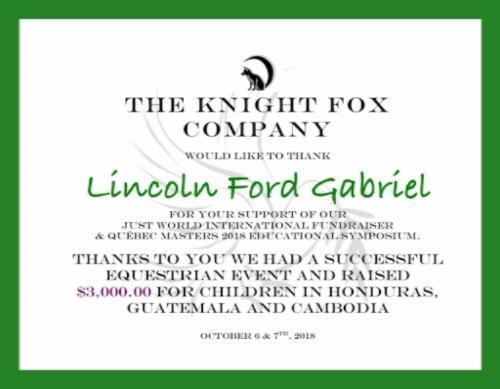 Ford Gabriel est fier de partager le message de remerciement de « The Knight Fox Company »:
« Merci beaucoup à vous Rhett et à Ford Lincoln Gabriel pour votre soutien à notre
Collecte de fonds « JUST WORLD INTERNATIONAL » et « Québec Masters 2018 educational symposium ».
Nous avons eu un événement équestre réussi et nous avons recueilli 3 000,00 $ pour les enfants du Honduras, du Guatemala et du Cambodge les 6 et 7 octobre 2018.
C'est grâce à des organisations telles que la vôtre et à des personnes comme vous et votre équipe que nous sommes en mesure d'éduquer les futurs athlètes de demain et de collecter des fonds pour les enfants dans le besoin.
Du fond du cœur, merci Rhett !!
Vous êtes tellement apprécié et nous vous en sommes très reconnaissants.